Free Consultation Today. Call us +6663-854-9129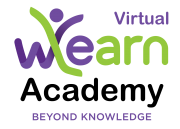 WeLearn Virtual Academy
Cultivate your future skills with our innovative learning platform today!
The WeLearn Virtual Academy, like our standard WeLearn Academy program [link], combines a rigorous accredited online academic program with personalized mentoring, deep learning courses focused on future skills, and standards-aligned, multi-disciplinary Project Based Learning (PBL) to form a comprehensive education system that we call WeLearn Virtual Academy.  It is a highly personalized program where each student, together with WeLearn personalized learning experts and the student's parents, will design a Personal Learning Pathway unique to that student's goals and passions.
The main difference between this and WeLearn Academy is that virtual students will be following a virtual PBL model, rather than coming to a WeLearn innovation center to do their PBL in-person, and will receive virtual mentoring rather in person mentoring.
The four key pillars of WeLearn Academy are:
Personalized Mentoring
Supplemented by two "add-on" programs:
Beyond Tutoring
Academic:  A Fully US or UK Accredited Online Academic Program
For our core academic program WeLearn recommends that students start with Acellus Academy, a top ranked, accredited US online program that relies on artificial intelligence and cutting-edge technology to deliver a highly personalized and progressive learning experience.
As students progress through their personal learning pathways, we can supplement their Acellus coursework with courses from other top-ranked online providers to ensure their program is truly personalized.
There are many excellent accredited online high school programs to choose from, following both US and UK curricula, including top schools like Stanford University Online High School, Johns Hopkins Center for Talented Youth, Northwestern University Center for Talent Development and US public universities, such as the University of Missouri, Texas A&M, and many others.  WeLearn has access to this vast array of courses through our platform at www.welearn.org
Students graduating from WeLearn Academy would receive a fully accredited and globally recognized diploma from Acellus Academy or other high school chosen in the students personalized learning pathway.
Project Based Learning
Project Based Learning (PBL) is a key component of WeLearn Academy that brings learning to life. It creates a powerful educational experience that engages young learners to solve real global problems that they will face in the future. It allows students to acquire deep knowledge in a meaningful way and cultivates relevant future skills as critical thinkers and problem solvers, entrepreneurs, engineers and designers, technologists, leaders and team members.
Our PBL is multi-disciplinary, covering multiple subject areas in each project like Science, Technology, Engineering, Arts, and Math (STEAM), Robotics, History, Economics, and Social Sciences.  After completing each PBL module, our students will add their accomplishments, in the form of photos, write-ups, presentations, and WeLearn Digital PBL Certificates, to their digital portfolios, which will greatly assist each student in creating a unique portfolio for university admissions.
Future Skills   
Acquiring Future Skills, both hard and soft, is the third key component of WeLearn Academy. For a detailed description of why future skills are important and which future skills are emphasized by WeLearn
WeLearn Academy students, both virtual and center-based, acquire future skills in our specific academy classes, specialized online courses or « Electives » (coding, robotics, etc) [link], and through our PBL. All our PBL curricula are designed to ensure that our students not only acquire key future skills but also learn how to apply those future skills to real world problems.
Virtual Personalized Mentoring
All of the above programs need to be coordinated and tracked. Each student benefits from assistance and advice in completing their weekly goals and understanding the importance of what they're learning to achieving their long-term goals.
Plus, especially with online learning, it's good to have a time each week to check in with someone and discuss the learner's progress, experience, and any difficulties that may be taking place, be they academic, project-based, or interpersonal. 
Our Learning Coaches
At WeLearn Virtual Academy, students will be closely monitored and motivated by our highly qualified and experienced educators who share a passion for working with our learners to ensure a truly future-relevant education.
Admissions
Admission to WeLearn Virtual Academy begins with a free initial consultation (virtual or in person) with our Director of Personalized Learning. During the initial consultation, learners and families get a chance to discuss their goals, both short-term and long-term, and receive advice on the possible paths they can take to achieve them. This is a chance for students and their families to get to know WeLearn and see if it is a good fit for their needs. Once all questions have been answered, assessments and an implementation session can be scheduled to begin moving forward.
Tuition Fees
Tuition for our Virtual program is the same as our blended WeLearn Academy Program.  This tuition includes all of our four key pillars, but not the add-on items.  For the core Academic program, the tuition includes a full course load from Acellus Academy but may not include courses from other schools depending on the costs of those courses in relation to Acellus Academy.  Please clink the link for our Tuition schedule.
How it works
Assessment Process
WeLearn uses assessments, transcripts, extracurricular activities, and consultations to ensure the initial course placements are at a level that matches the student's abilities and interests.
Personalized Learning Plan
Together with the student and family, we develop a Personalised Learning Plan that identifies a sequence of learning milestones that will allow your student to master their curriculum and the seven future skills.
Applied Academics
Students apply the knowledge and skills gained from conventional learning in a hands-on environment though creative projects and independent research to solve real world challenges.
Testimonials
Below, our community members share their progress and experiences along their personal learning journeys.
Kaopun
Upper Primary student
Within 5 months of my joining the upper primary program at WeLearn Academy, I have
When you're seeking College essay writing service essay help and composing your essay, there are lots of people that will willingly assist you with the precess of composing your essay. However, remember that you need to take your time as it can be quite tiring for you. In addition, you must search the net because there are essay help sites which offer their assistance on the essay and writing procedure.
Learned many new words and am obviously more fluent in speaking English. Both writing and reading skills have progressed much faster than the time that I had spent for years at my old school.
Big
A father of two daughters at WLA
Since my two girls have studied at WLA, they have never complained about how tired they are even when they come home a bit late. They are still happy, have some time to chat with family, and continue enjoying life. The best education doesn't have to come from the most popular school. We must keep learning, and never stop.
Napamon
A mother of an upper Primary student
Pahm's Dad
A father of an upper Primary student
This is the first time Online learning for

 
Pahm
. We still don't know what is the best for our kids but we are familiar with WeLearn and WeLearn's staff are great and focusing on the children who join and the online class group. We are still trying to find the best thing for our kids but right now WeLearn is the best in what we have seen from WeLearn's team and teachers. I think it is good that WeLearn tries to communicate with parents.
น้องพราว
Upper Primary student
เรียนออนไลน์กับ

 
WeLearn

 
ชอบที่ได้เพื่อนใหม่แล้วก็สนุกค่ะ
Minnie's Mom
A mother of an upper Primary student
ขอบคุณนะคะสำหรับคอร์สดีดี ให้ลูกสาวได้ใช้เวลาว่างให้เป็นประโยชน์มากๆ มั่นใจว่าคอร์สดีค่ะ ลูกได้ทักษะมากมายจากคอร์สนี้ ขอบคุณผู้จัดและ

 
teacher

 
อีกครั้งค่ะ
13,000+ THB
per student for 4-week Full Time program
Secondary program: Ages 11-20
Primary program: Ages 9-11
Free Consultation Today. Call us +6663-854-9129
Online "Managed" Enrichment Program
In addition to electives that focus on specific hard skills that are available as part of our standard WeLearn Academy program, students may choose to deepen or broaden their acquisition of future skills, and explore new passions or deepen existing ones.  This can be done by participating in our Online "Managed" Enrichment Program.
These courses go beyond the Electives in our WLA program, are not mandatory, and can be purchased as a supplement to WeLearn Academy's base tuition. 
Beyond Tutoring
WeLearn goes beyond standard tutoring providers by emphasizing Mastery, not just passing a test or two. Additionally, our tutors are experienced in IB, IGCSE, A-Levels, AP, SAT, Admissions Counseling, etc.
Beyond Tutoring preserves the passion for learning:
Our learners develop an entrepreneurial, self-directed mindset so they can adapt and overcome future challenges in: School, University , Life beyond tertiary education i.e. the real world.
Portfolio Development can help show highly-selective universities and/or future employers why you make an ideal candidate.
Our "Study Ahead" opportunities feature accredited online partners who offer a wide range of : AP courses, AS/A-Levels, IGCSEs.
Free Consultation Today. Call us +6663-854-9129